By Douglas Woodruff, Vice President Global New Product Development and Technology 
In an era where businesses must step up to the challenges of sustainability, JBT Corporation stands at the forefront of this important transition. At JBT, we believe that sustainability is not a distant goal but an integral part of our journey towards creating innovative solutions for our customers while making the best use of the world's precious resources. 
Our commitment to sustainability is deeply ingrained in our innovative culture, particularly visible in our approach to New Product Development (NPD). We focus on three fundamental areas: Optimization of Water, Steam and other Utilities, Food and Non-Food Waste Reduction, and Innovative Research & Development. 
Enhancing Efficiency Through Utility Optimization
In the realm of utility optimization, JBT emphasizes the importance of equipment efficiency, striving for increased run times and constantly exploring new technologies that enhance productivity while minimizing environmental impact. 
Take, for instance, the Avure HPP FlexiBulk™ System, a product designed with an acute focus on efficiency and adaptability. This innovative system offers high-pressure processing (HPP) for both individual and bulk packaging. By providing the option to use conventional aseptic bulk bag technology that is adapted for HPP, the FlexiBulk System enables the finished food product to be filled into any container, including cans and glass bottles.  We have optimized the FlexiBulk system to use 35% less energy than comparable systems. Additionally, it increases processing capacity to more than 90% of the HPP processing basket, significantly increasing the throughput per cycle while also enabling the elimination of wasteful single-use plastics.  
Our pursuit of sustainability does not end there. Our PLF Powder Filler Virtus, specifically designed to handle a wide range of nutritional powders, is another prime example of how we integrate sustainability into our product design. This filler outperforms conventional rotary machines with a 50% reduction in electrical demand and a 20% reduction in compressed air demand, all while maintaining a 30% smaller machine footprint. By intertwining sustainability with efficiency, we make strides towards a greener and more resourceful food processing industry. 
Mitigating Waste Through Thoughtful Innovation
Another cornerstone of our sustainability efforts lies in waste reduction. At JBT, we constantly innovate to increase the shelf-life of food products, maximizing the use and yield of food and ingredient inputs, thereby decreasing food waste. 
Consider our Proseal Case Packing system. This system integrates tightly with the production line to reduce waste. It's not just about reducing physical waste; by automating the case packing process, we decrease the labor required and prevent repetitive-motion tasks, contributing to an overall safer and more efficient work environment. 
In the realm of non-food waste management, JBT is firmly committed to amplifying the use of recyclable and biodegradable packaging. For example, the adoption of Proseal's top sealing in place of traditional clamshell and clip-on lids has the potential to lessen packaging materials by a remarkable 45%. To put this into perspective, this means that for every 1 million trays that are top sealed, 10 tons of plastic avoids the landfill. 
Revolutionizing the Food Industry Through R&D
Innovation and research are the driving forces behind our commitment to sustainability. Our R&D teams are continually working on breakthrough technologies, such as blending plant-based ingredients and developing equipment solutions for cell-based meats and seafood technologies.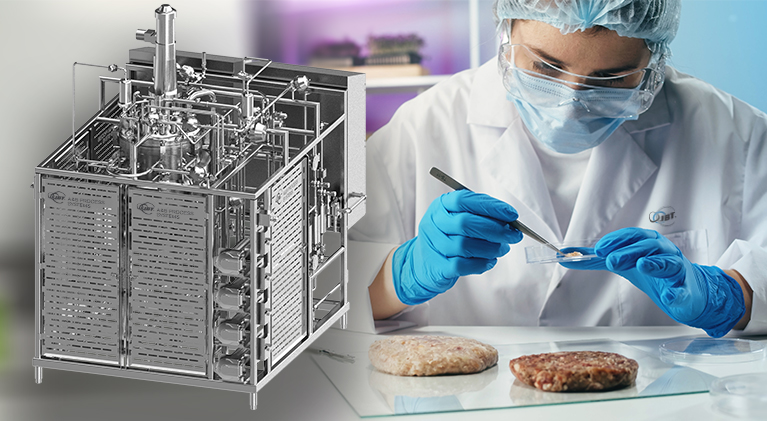 As part of our sustainable R&D initiatives, we have made waves in the realm of cultured meat solutions. With regulatory approval for cell-cultured meats in the USA, we're geared up to offer our clients full solutions that help them stay competitive in this evolving market. From Media Preparation Skids to Bioreactors and Harvest Tanks, JBT is ready to help cultured meat companies scale into full production. 
Preserving Our Future with Innovative Technologies
In our relentless pursuit of sustainability, we have revolutionized traditional in-container preservation technologies. Our innovative products like the Retort SuperStatic, Retort Energy Recovery System, and the 2.1m Pressure Rotary have significantly reduced our steam and process water usage, making these systems far more eco-friendly than their predecessors. 
Through our innovative work, we have been able to achieve steam reductions between 10-40% and up to 45% less process water use in our preservation systems, testifying to our dedication to resource conservation and environmental stewardship. 
Fostering Sustainability with JBT
Through strategic initiatives to reduce waste, increase efficiency, and innovate responsibly, we strive to continually raise the bar for sustainable business practices within our industry. We're not just seeking to adapt to a changing world, but actively working to change the world for the better. Each product we develop, each solution we provide, brings us one step closer to this goal. 
At JBT, sustainability is not just a statement, it's our way of doing business. By making better use of the world's precious resources and providing solutions that sustainably enhance our customers' success, we aren't just propelling our business forward; we're making a meaningful impact on our planet's future. Our journey towards sustainability is a constant pursuit of innovation, efficiency, and responsible growth. It's a commitment that shapes our work every day, driving us to create a future where the success of our business aligns seamlessly with the health of our planet. It's a future we're proud to be a part of, and one we're excited to help shape. 
By choosing JBT, our customers don't just benefit from cutting-edge, efficient solutions, they become part of a larger movement. A movement towards a more sustainable, efficient, and resourceful world. Together, we are making the world a better place, one innovative product at a time.