The food and beverage industry is continuously evolving, and 2023 is no exception. With increasing concerns over inflation, supply chain challenges, and competition, manufacturers are looking to prioritize sustainability to remain competitive in the market. According to a recent survey by IDC, customer demand for eco-friendly products is the top factor motivating organizations to adopt sustainable practices.
At JBT, we understand the challenges facing food and beverage manufacturers in today's market, and we provide solutions to help our customers stay ahead of these trends. Our innovative technologies and services not only promote sustainability, but they also increase efficiency, improve product quality, and reduce costs. Whether it's our innovative energy-saving systems, sustainable packaging solutions, or our expertise in traceability and food safety, JBT helps manufacturers to meet the demands of consumers while also addressing their own business needs. With JBT, manufacturers can confidently embrace sustainability, remain competitive in an ever-changing industry, and stay ahead of the food and beverage manufacturing trends.
Maximizing Energy and Water Efficiency in Food and Beverage Production
"Electricity and fuel are major contributors to carbon footprints, representing significant costs," says Carlos Fernandez, Executive Vice President, Customer Sustainability and Market Development at JBT Corporation. To reduce emissions, manufacturers must invest in efficient equipment, technology, and processes. In 2023, the industry will see increased adoption of efficient steaming technology and water reuse systems to reduce water, energy, and chemical usage, reducing the carbon footprint of food and beverage production.
To combat this, JBT provides solutions to improve the efficiency of water and energy usage in various food processing operations. JBT's Fresh Produce Solutions include Avure's FlexiBulk, which uses 35% less energy compared to conventional systems, and FTNON Fruit and Vegetable washers that maximize water usage to reduce water consumption.
JBT's Processing Solutions such as UHT Sterilizers provide a 15-17% reduction in steam usage and 86% heat recovery and the JBT Sterideal Ohmic uses electricity, therefore no steam or water is used during the heating process. Not only will the Ohmic reduce water usage through the electric heating process, but also will reduce the water needed during the cleaning process. With less product fouling, the need to clean the system is reduced, resulting in reduced water consumption.
Filling & Preservation technologies from JBT offer water recovery systems that reduce retort water volume by up to 45%, while the heat recovery systems can deliver a reduction in steam usage of up to 40% and decrease the overall thermal load of the cooling tower, resulting in substantial energy savings. JBT's Filling & Preservation energy recovery systems also reuses hot water from the sterilization process to minimize energy usage.
The Importance of Reducing Food Waste
Reducing food waste is crucial to address the global challenges of hunger and climate change. The industry must extend the shelf life of products to improve food security and reduce waste by utilizing technology and finding innovative solutions. Fernandez emphasizes the need for manufacturers to "partner with their technology providers to develop and utilize technology that makes the best use of natural resources."
JBT provides several solutions aimed at reducing food waste in the fresh produce and food processing industries. These solutions include the use of natural coatings to protect produce, FTNON Robotic Systems for more accurate and hygienic processing, Labeling & Identification to ensure proper tracking of produce, Citrus systems to maximize juice yield and use all parts of the fruit, UHT Sterilizers with reduced volume that reduce product waste by 20%, and Retorts and Rotaries for heat treatment to extend the shelf life of foods and beverages. These solutions are designed to help improve efficiency and reduce waste at all stages of the production process.
Innovation in Cultivated Meats
Factory farming is a significant contributor to greenhouse gas emissions and nutrient pollution. Cell-based proteins have the potential to revolutionize the food industry, as they eliminate the need to raise and farm animals for consumption, reducing the environmental impact of food production. While not mainstream yet, cell-based proteins are growing in demand and are expected to become a leading alternative-protein source in 2023 and beyond.
JBT's A&B Process Systems provides leading process systems for cultivated protein production through its READYGo Bioreactor. The bioreactor is designed for processing companies in the cultivated meat sector, with volumes ranging from 20 to 20,000 Liters, making it suitable for both pilot and full-scale production. It offers flexibility, customization, and scalability to meet the needs of the growing cell-based protein market without adding unnecessary costs. JBT's A&B provides mix studies, CFD analysis, and 3D modeling, and has over 45 years of experience in sanitary process piping. As a vertically integrated supplier, JBT controls its supply chain and is committed to reducing downtime and completing projects within budget and on time. The company's extensive Factory Acceptance Testing reduces installation time and provides customers with R&D and Pilot Production equipment in stainless steel systems to support long-term scale-up plans.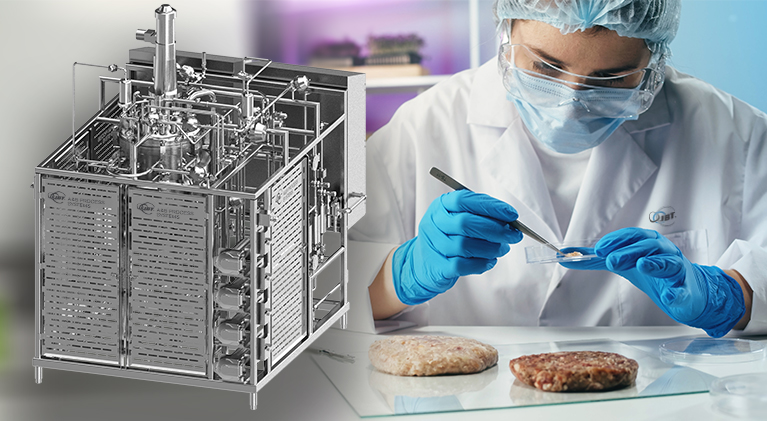 Consumer's Demand for Eco-Friendly Packaging
Consumers are willing to pay more for brands that adopt sustainable packaging alternatives, leading to an increased shift towards compostable, paper, and paperboard materials. Tray-sealing packaging, which reduces plastic and energy usage while preserving product quality, will also become more popular. Mono-material plastics, which are easier to recycle than multi-material layered plastics, will also be adopted by brands to meet consumer demand.
To help our customers reduce overall plastic usage, our Proseal® technologies replace more cumbersome and wasteful alternatives. Compared to using a plastic clamshell, the top-sealed trays run through Proseal equipment use 42% less plastic. This not only saves space during transportation and storage but also provides superior protection for the product. Proseal packaging is compatible with board and paper pulp materials such as HALOPACK®, which is a lightweight 90% recycled cardboard packaging solution with a better seal than standard PP-PE or PET packaging and is easily recyclable, making it easy for customers to switch to more sustainable options.
AutoCoding Systems also contributes to sustainability efforts in the packaging industry with its innovative solution that eliminates errors and increases efficiency in the coding and labeling process. The system helps reduce packaging waste, product recalls, and rework. AutoCoding accurately and consistently applies codes and labels to products, reducing the risk of errors and streamlining the packaging process. The solution can also reduce labor costs and increase profitability. With additional modules for quality assurance, inspection reporting, and line performance monitoring, factories can further extend automation and improve their operations. The Paperless Quality module automates QA processes, the Inspection Reporting module identifies inefficiencies in real-time, and the LPR module ensures equipment is running at optimal capacity.
Food and Beverage Manufacturing Trends: The Importance of ESG for Manufacturers
The uncertainty of today's economy makes it more crucial than ever for food and beverage manufacturers to prioritize sustainability. Implementing a robust environmental, social, and corporate governance (ESG) plan is key to achieving both sustainability and business goals. Fernandez believes that "manufacturers that leverage innovative technologies to address the social and environmental impact of the industry will accelerate growth and transform the industry now and in the future."
Brian Deck, JBT's CEO, states "JBT's purpose is to help our customers succeed in the marketplace by giving them solutions to make better use of the world's precious resources. Optimizing the use of natural resources means doing business responsibly and wisely. We help our customers achieve this through automation, electrification, efficiency, resource conservation of water & energy, and minimizing food waste." Deck and Fernandez encourage other companies to adopt a similar approach to help tackle some of the world's biggest challenges, such as reducing food waste, feeding a growing population, and preserving the planet for future generations. Putting ESG first is not only the right thing to do but also good for business and the future of our planet.
Sustainability Takes Center Stage in the Food and Beverage Industry
The food and beverage industry is embracing sustainability in 2023 as customers demand eco-friendly products and companies aim to reduce their carbon footprint, food waste, and greenhouse gas emissions. The industry is expected to adopt efficient energy and water usage technologies, invest in cell-based proteins, and shift towards compostable packaging to meet consumer demand. Companies like JBT are providing solutions to improve sustainability in all stages of the food production process, including reducing plastic usage, maximizing juice yield, and extending shelf life. By partnering with technology providers and controlling their supply chain, JBT is committed to reducing costs and improving the overall sustainability of the food and beverage industry.